---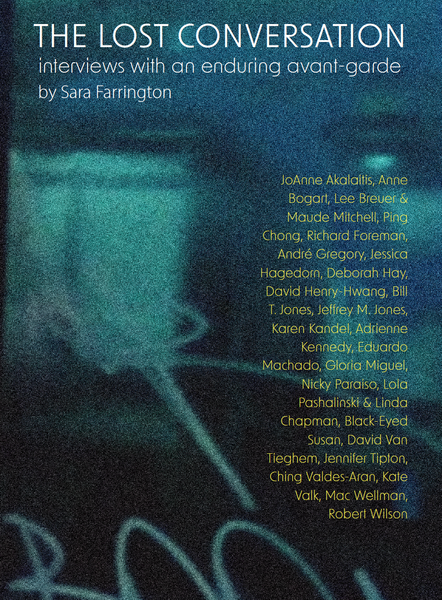 The Lost Conversation: Interviews with an Enduring Avant-Garde
$ 16.00
THE LOST CONVERSATION: Interviews with an Enduring Avant-Garde
by Sara Farrington
April 2022
$16
324 pages
5x7 inches
paper/perfect bound
ISBN: 978-1732545281

In this collection of interviews conducted between 2019-2021 with New York theater artists who have spent their lives working in and inventing the avant-garde, playwright Sara Farrington brings to light a series of "lost conversations" about class, race, difficulty, endurance, and privilege in the New York avant-garde of the past fifty years, as well as conversations about the ephemerality, the always-about-to-be-lostness of the medium itself. Featuring conversations with Joanne Akalaitis, Anne Bogart, Lee Breuer + Maude Mitchell, Ping Chong, Richard Foreman, André Gregory, Jessica Hagedorn, Deborah Hay, David Henry Hwang, Bill T. Jones, Jeffrey M. Jones, Karen Kandel, Adrienne Kennedy, Eduardo Machado, Gloria Miguel, Nicky Paraiso, Lola Pashalinksi + Linda Chapman, Black-Eyed Susan, David Van Tieghem, Jennifer Tipton, Ching Valdes-Aran, Kate Valk, Mac Wellman, and Robert Wilson, The Lost Conversation is also a record both of the avant-garde's past and of its urgent present.

CONTRIBUTORS

Sara Farrington is an NYC- & NJ-based playwright, theater artist, screenwriter, and co-founder of Foxy Films, her theater company with Reid Farrington. Sara's plays have been nominated for two Drama Desk Awards and critically acclaimed by the New York Times, the New Yorker, the Wall Street Journal, American Theatre Magazine, the Village Voice, Lighting & Sound in America and more. Recent plays include: CasablancaBox, BrandoCapote, Mendacity, Leisure Labor Lust, The Return, Honduras, Near Vicksburg, Mickey & Sage (Broadway Play Publishing, Inc.), The Rise & Fall of Miles & Milo, Cosmicomics, and more. Sara wrote the feature film Mendacity, directed by Reid Farrington and featuring her company, Foxy Films. Sara studied playwriting with Mac Wellman at Brooklyn College, performance at Connecticut College and the National Theater Institute at the Eugene O'Neill Theater Center, interned at the Wooster Group and was an acting company member at the late Jean Cocteau Repertory. Sara is lives in Maplewood, NJ with husband Reid and sons Jack and Levi.

Kate Kremer is a playwright and publisher. Her plays have been produced/developed at JACK, the Bushwick Starr, Dixon Place, SFX Fest, the Figge Art Museum, the Public Theater Weasel Festival, and Brooklyn College, among others. She has been a Princess Grace finalist, a Dennis and Victoria Ross Foundation finalist, and a semifinalist for SPACE on Ryder Farm and the Clubbed Thumb Biennial commission. In 2017, Kate took over the editorship of 53rd State Press from founding editor Karinne Keithley Syers. She received her MFA in playwriting from Brooklyn College, where she studied with Mac Wellman and Erin Courtney. She currently teaches playwriting at the University of Virginia's College at Wise.