---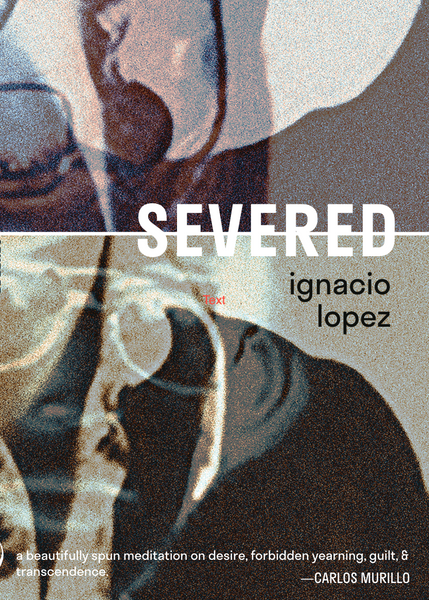 Severed
$ 12.00
SEVERED

by Ignacio Lopez

with an introduction by Noel Allain

Oct 2020

$12

80 pages

4.5x6

paper/perfect bound

ISBN: 978-1732545227

Dark, disturbing, deft, irreverent, and revelatory, Ignacio Lopez's monologue is at once a coming-of-age story, a horror story, and a highly theatrical experiment in radical empathy. Weaving together two very different voices grappling with strikingly similar crises of sexuality and conscience, 

Severed

 asks: where do we draw the line between human and monster, severing, as we do so, the possibility of empathy, forgiveness, and understanding? What happens when we see ourselves reflected in the monster's eye?

PRAISE FOR

 

SEVERED:

"With terrifying elegance, 

Severed

 blurs the lines between violence and desire, casting a spell in which even the tenderest intimacy can feel like a murder, a haunting, a loss of vital self. The play moved me as deeply as it scared me; I felt the cold fingers of a dogmatic past reach for my throat with stunning physical realness. A remarkable work."

-Will Arbery

"What if, looking into a mirror, you saw in the reflection the most distorted, monstrous version of yourself staring back at you? What if, unearthing your innermost longings, you bore witness to the unspeakable carnage wrought by your imagined double? Ignacio Lopez dares to ask these questions in his mesmerizing, unsettling solo piece 

Severed

. Lopez excavates the torment of his own coming of age/coming out story while simultaneously inhabiting the nightmarish psyche of one of history's most demonic butchers. 

Severed

 is a tautly written, unflinching and beautifully spun meditation on desire, forbidden yearning, guilt and transcendence."

-Carlos Murillo

ABOUT THE CONTRIBUTORS:Ignacio Lopez

 is a playwright and performer living in Brooklyn, New York. His work has been supported by New York Theatre Workshop, the Bushwick Starr, and INTAR Hispanic American Arts Center. He has contributed his writing, dramaturgical, and performance talents at the Public Theatre, the Goodman Theatre, the Williamstown Theater Festival, Northlight Theatre, Victory Gardens Theater, and the Colorado Shakespeare Festival.

Noel Allain

 is the Founding Artistic Director of The Bushwick Starr Theater. He is a graduate of Skidmore College and the Juilliard School's Drama Division. As an actor, he has performed in various theater, television, and film productions in and out of New York City. At the Starr, he has programmed artists and companies such as Heather Christian, Jeremy O. Harris, Dave Malloy, Half Straddle, Daniel Fish, Clare Barron, Ayesha Jordan, The Mad Ones, Phillip Howze, Erin Markey, David Greenspan, Haruna Lee, Diana Oh, and Jillian Walker. He has developed the Starr's workshop, Creating Performance, in collaboration with El Puente Leadership Academy, and its after school program, Big Green Theater, with Superhero Clubhouse. He has served as a panelist for NYSCA, LMCC, The Shed, Sundance Theater Lab, and HERE's HARP Residency; appeared as a guest artist for the University of Iowa's New Play Festival; and as a guest speaker at Colombia, NYU, Hunter, Bard, Skidmore, and the Prelude Festival.